The tools to do tech contracts better, faster, and with more confidence

The Problem: Writing and negotiating technology contracts can be slow, risky, and intimidating, with few professionals receiving effective formal training. The result?  A learn-as-you-go approach that leads to delayed deals and puts your company at risk — and leaves contract-drafters uncomfortable with their own skills.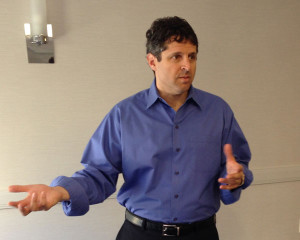 The Solution: Tech Contracts Academy™ was created to bring confidence and expertise to your deals and to you and your team. Founded by one of the world's leading software licensing and cloud contracting experts, we offer training to help you do IT contracts better, faster, and with more confidence.
David Tollen is the author of  the American Bar Association's bestseller, The Tech Contract Handbook. He teaches all our programs. His courses are plain-spoken, energetic, and user-friendly, for both businesspeople and lawyers. They use the book as their primary handout. Mr. Tollen is an experienced tech industry presenter, and he's been invited to speak or train before lawyers and businesspeople at Google, BMW, the California CIO's office, state and local bars, and a long list of technology industry groups and companies.
Tech Contracts Academy™ offers In-House Training: private talent-development, usually at your offices. And we plan to offer Public Training soon, available to individual trainees.
Most trainings last one full day, though we also have an expanded, two-day program. The programs covers all the terms generally found in IT contracts, including indemnity, SLA's, limits of liability, warranty, escrow, licensing, and data security.
---
Inquire about In-House Training or get on the list to learn about Public Training.
To schedule an In-House Training, please fill out the form or call us at 415-278-0950.
Please sign up here to be notified about Public Training dates and places.