TRAINING ON IT CONTRACTS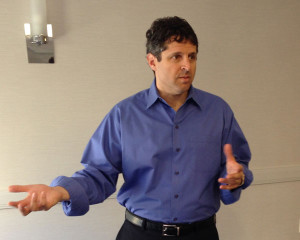 Contract managers want to feel confident when they face the other party, and so do other negotiators, like lawyers and procurement officers. IT staff and salespeople want tech deals done faster, while executives want them done cheaper.  And everyone wants effective partnerships, free of traps for the unwary and disputes. The solution is training — for contract staff, IT staff, lawyers, executives … anyone responsible for getting tech contracts done. That's because a negotiator who doesn't understand can't easily compromise or horse-trade, or move fast. Good training helps negotiators think creatively, and it saves time and money.
The author of The Tech Contract Handbook, David Tollen, provides training on drafting and negotiating IT contracts. His courses are plain-spoken, energetic, and user-friendly, for both businesspeople and lawyers. They use the book as their primary handout. Mr. Tollen is an experienced tech industry presenter, and he's been invited to speak or train before lawyers and businesspeople at Google, the California CIO's office, BMW's Silicon Valley licensing team, state and local bars, and a long list of technology industry groups and companies.
We offer In-House Training: private talent-development, usually at your offices. And we plan to offer Public Training soon, available to individual trainees.
Most trainings last one full day, though we also have an expanded, two-day program. The programs covers all the terms generally found in IT contracts, including indemnity, SLA's, limits of liability, and data security.
---
Inquire about In-House Training or get on the list to learn about Public Training.
To schedule an In-House Training, please fill out the form or call us at 415-278-0950.
Please sign up here to be notified about Public Training dates and places.